MTP Multimode 50/125 OM3/OM4 Optic Patch Cord
Product Detail
Product Tags
MTP terminated cables are widely used in high density cabling environments like data centers. Traditional, tight-buffered multi-fibre cable needs to have each fiber individually terminated by a skilled technician. MTP cable which carries multiple fibers, comes pre-terminated. Factory terminated MTP connectors commonly have either 8fiber, 12 fiber or 24 fiber array.
MTP is a brand name for manufactured by US Conec. It conforms to MPO specs. MTP stands for "Multi-fiber Termination Push-on" connector. MTP connectors are engineered for high mechanical and optical specs. Some of these features are covered by patents. To the naked eye, there is very little difference between the two connectors. In cabling they are compatible with each other.
The MTP connector can be either male or female. You can tell the male connector by the two alignment pins protruding from the end of the ferrule. MTP female connectors will have holes in the ferrule to accept the alignment pins from the male connector.
MTP Multimode 8 Fibers OM3/OM4 50/125μm Fiber Optic Patch Cord, a cost-effective alternative to time-consuming field termination, is designed for high-density fiber patching in data centers which need space saving and reduce cable management troubles. With MTP connectors and Corning fiber or YOFC fiber, it is optimized for 10/40/100G high-density data center applications.
Connector

MTP to MTP/LC/SC/FC/ST

Fiber Count

8, 12, 24

Fiber Mode

OM3/OM4 50/125μm

Wavelength

850/1300nm

Trunk Diameter

3.0mm

Polish Type

UPC Or PC

Gender/Pin Type

Female or Male

Polarity Type

Type A, Type B, Type C

Insertion Loss

≤0.35dB

Return Loss

≥30dB

Cable jacket

LSZH, PVC (OFNR), Plenum (OFNP)

Cable Color

Orange, Yellow, Aqua, Purple, Violet Or Customized

Fiber Count

8Fiber/12Fiber/24Fiber/36Fiber/48Fiber/72Fiber/96Fiber/144Fiber Or Customized
● Used to connect equipment that utilizes MTP style connectors and OM3/OM4 50/125μm Multimode cabling
● Type A, Type B and Type C Polarity Options available
● Each cable 100% tested for low insertion loss and Return loss
● Customized lengths and cable colors available
● OFNR (PVC), Plenum(OFNP) and Low-Smoke, Zero Halogen(LSZH)
● Reduced Insertion Loss by up to 50%
● High Durability
● High Temperature Stability
● Good Exchangeability
● High Density design cuts down on installation costs
● Designed for 40Gig QSFP systems
Jumper cables are used to make the final connection from patch panels to transceivers, or they are used in the centralised cross connect as a means of connecting two independent backbone links. Jumper cables are available with LC connectors or MTP connectors depending on whether the infrastructure is serial or parallel. Generally, jumper cables are short length assemblies because they only connect two devices within the same rack, however in some cases jumper cables can be longer, such as "middle of row" or "end of row" distribution architectures.
RAISEFIBER manufactures jumper cables which are optimised for the "in-rack" environment. Jumper cables are smaller and more flexible than conventional assemblies and connectivity is designed to allow highest packing density and easy, fast access. All of our jumper cables contain bend optimised fiber for enhanced performance under tight bending conditions, and our connectors are colour coded and identified based on base type and fiber type.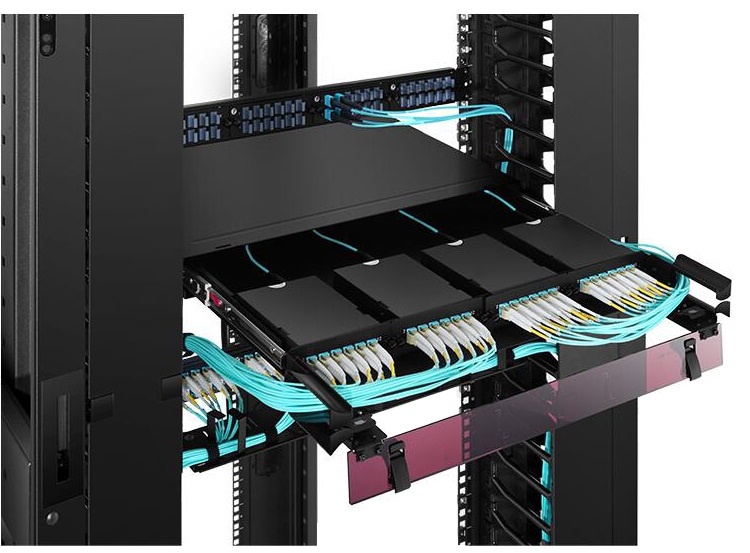 • Colour coded connector boots by fiber-count
• Ultra compact cable diameter
• Bend optimised fiber and flexible construction
• Available as Base-8, -12 or Base-24 types
• Robust construction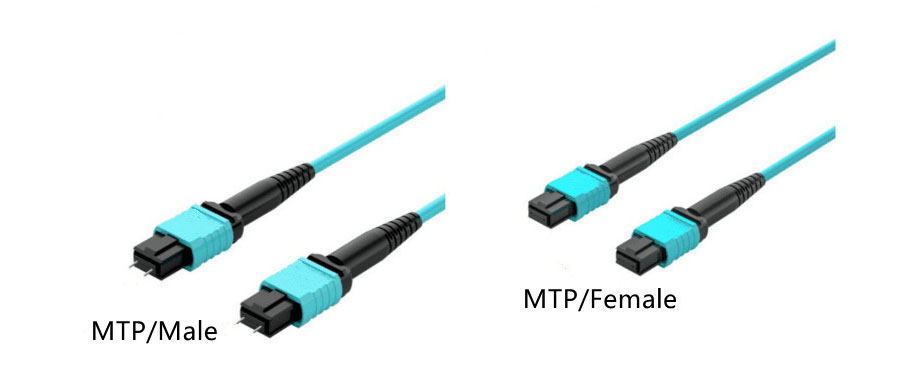 MTP® Connector Color Options
| | |
| --- | --- |
| USCONEC MTP® | Color |
| SM STANDARD | GREEN |
| SM ELITE | MUSTARD |
| OM1/OM2 | BEIGE |
| OM3 | AQUA |
| OM4 | ERICA VIOLET OR AQUA |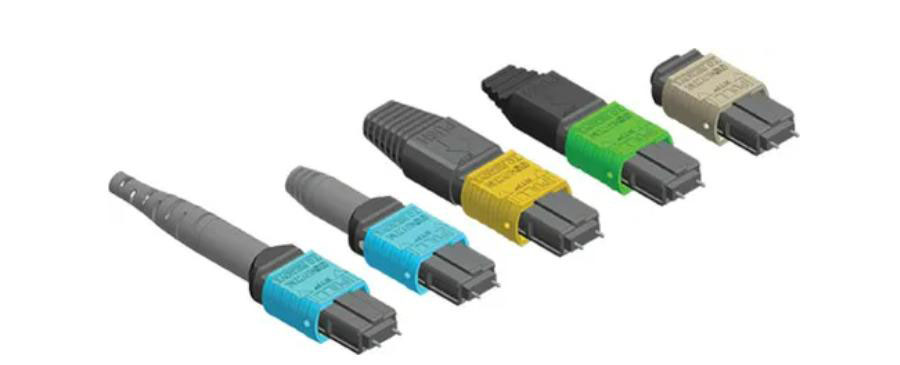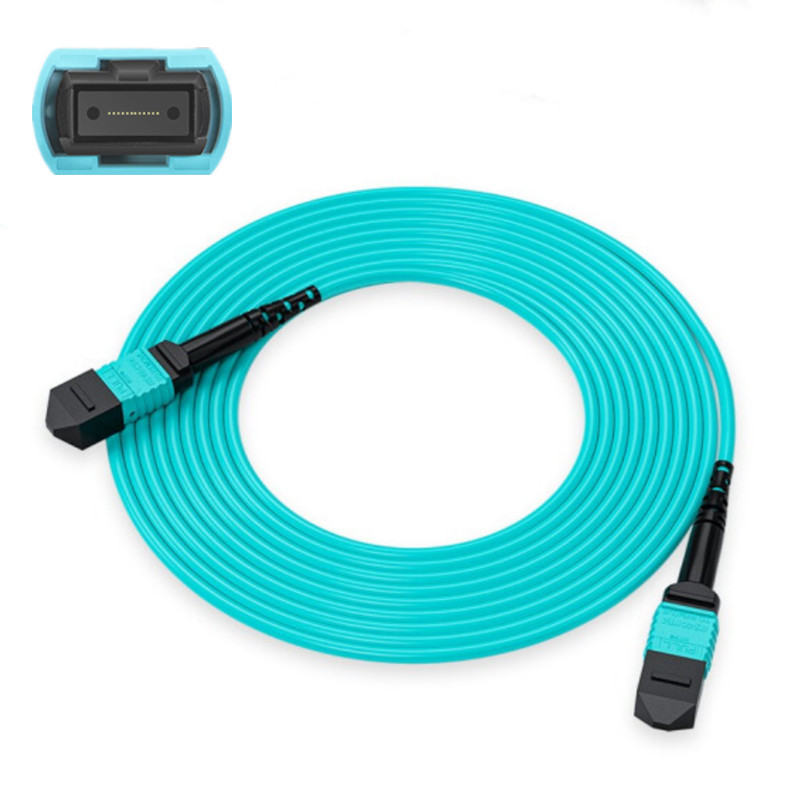 MTP to MTP Multimode 12 Fibers OM3/OM4 Fiber Optic Patch Cord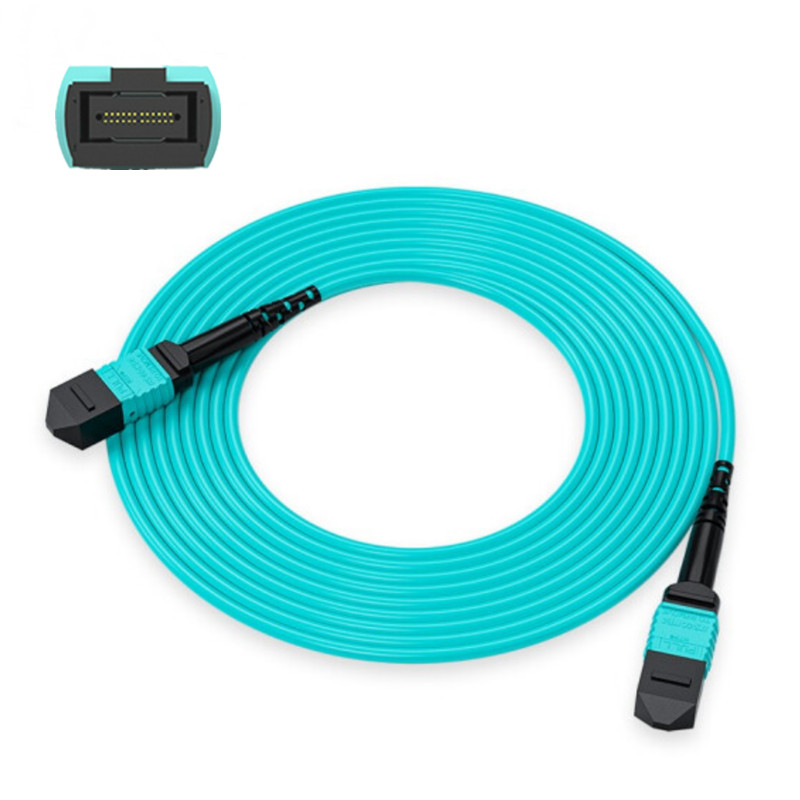 MTP to MTP Multimode 24 Fibers OM3/OM4 Fiber Optic Patch Cord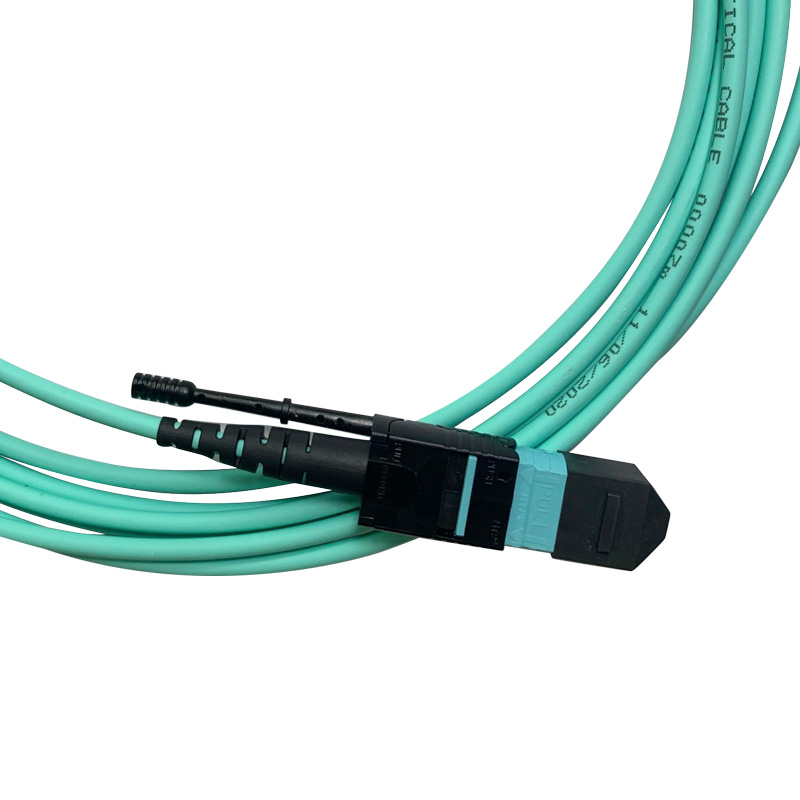 MTP to MTP 12 Fibers Multimode OM3 Fiber Optic Patch Cord with Push/Pull Tabs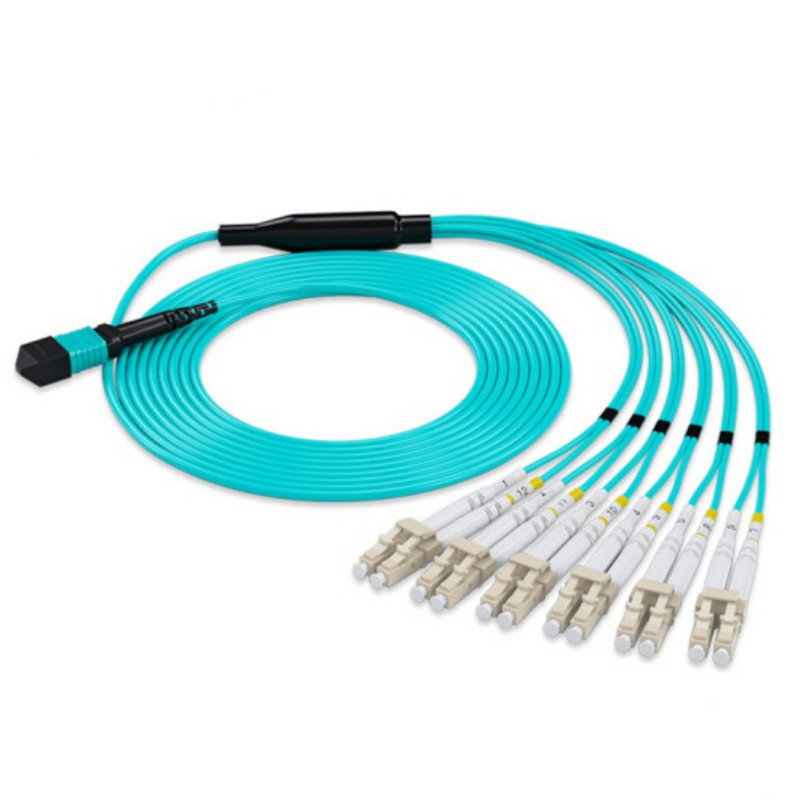 MTP to 6x LC Duplex 12 Fibers Multimode OM3/OM4 Breakout Fiber Optic Patch Cord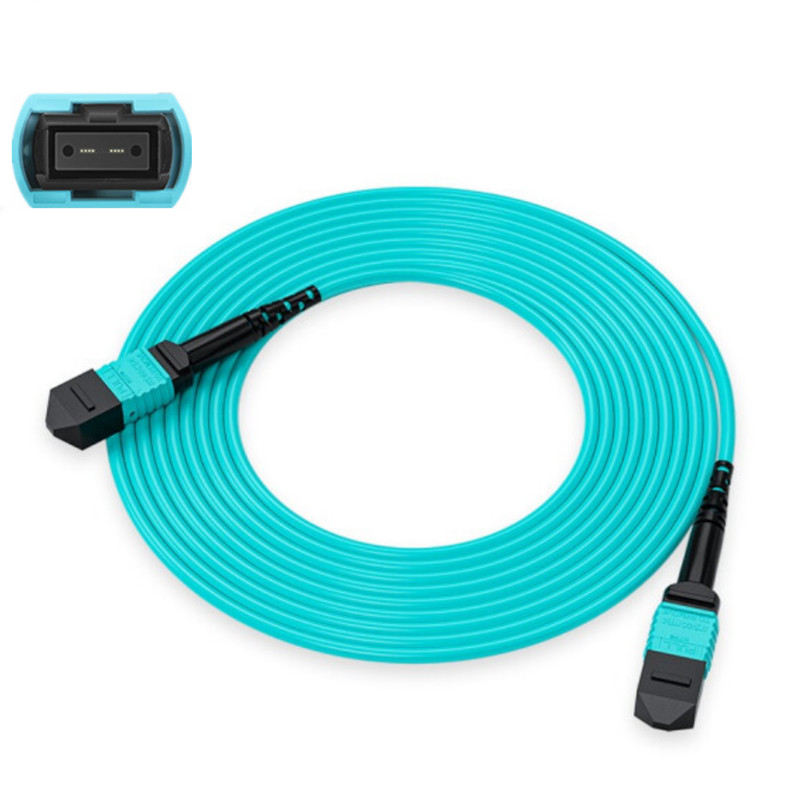 MTP to MTP Multimode 8 Fibers OM3/OM4 Fiber Optic Patch Cord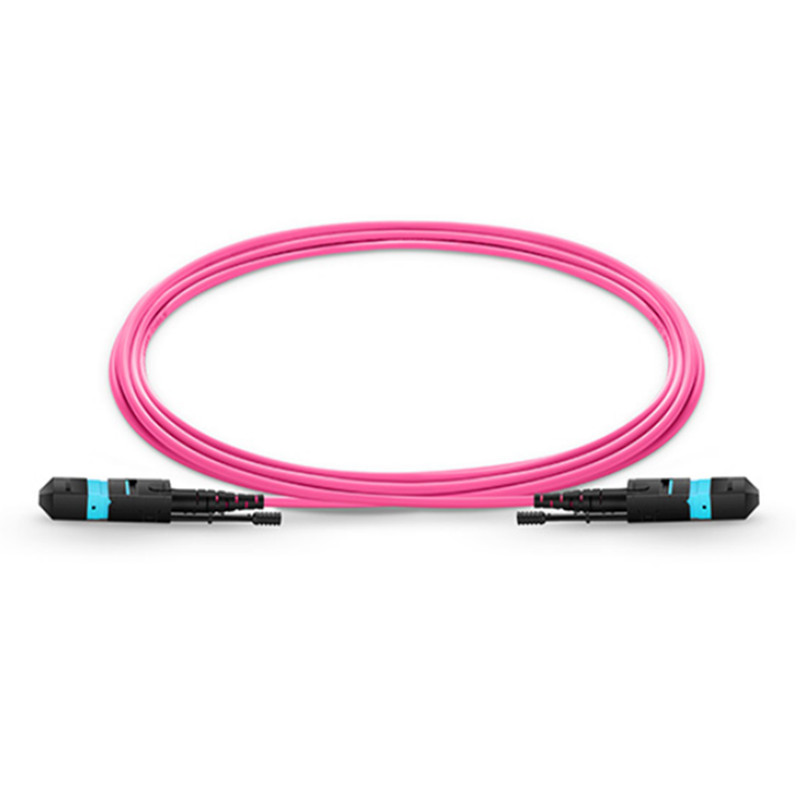 MTP to MTP 12 Fibers Multimode OM4 Fiber Optic Patch Cord with Push/Pull Tabs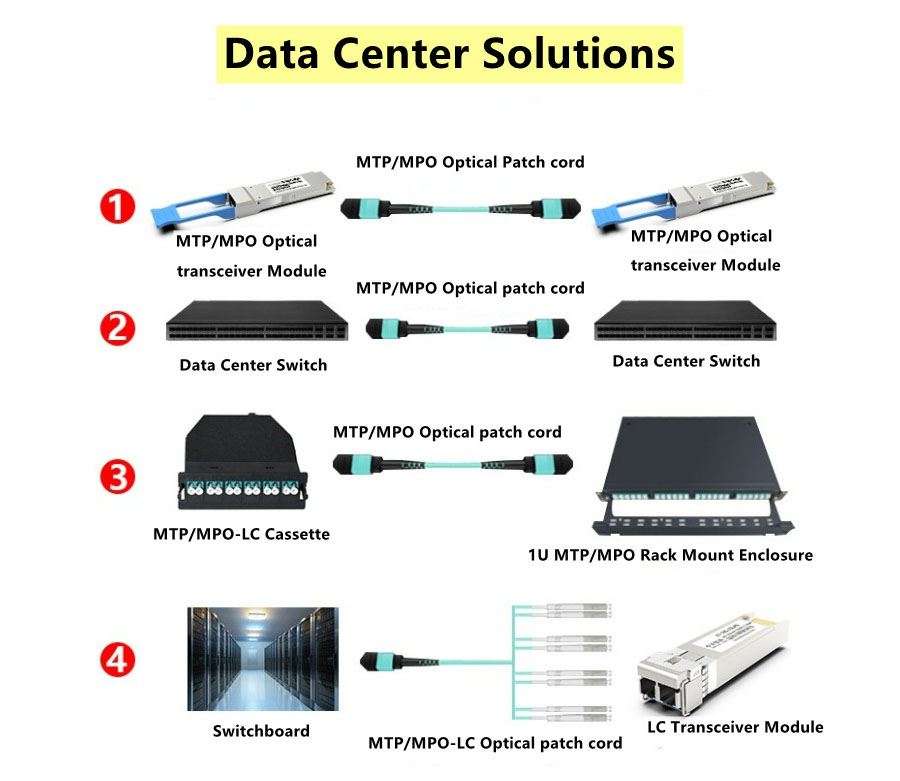 POLARITY A
In this polarity, the fiber 1 (blue) is terminated in hole 1 in each connector and so on. This polarity is often referred to as STRAIGHT THROUGH.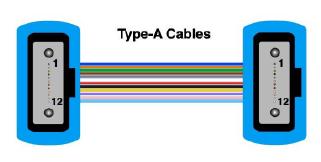 POLARITY B
In this polarity, the fibers are reversed. The fiber number 1 (blue) is terminated in 1 and 12, fiber number 2 is terminated in 2 and 11. This polarity is often referred to as CROSSOVER and is commonly used in 40G applications. This is commonly used with type B mating as mentioned in the next section.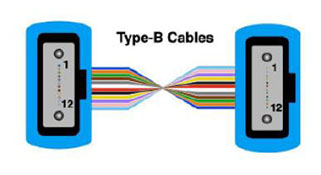 POLARITY C
In this polarity, the fibers are divided into 6 pairs which are reversed. They are intended to be used with prefab cabling systems which will connect to breakouts (cables or modules) individual 2-fiber channels.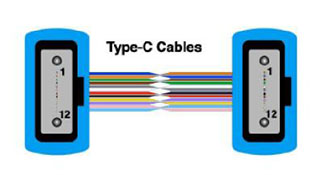 TYPE A
MTP Type A Mating Adapters mate the connectors with the key of one connector in one direction and the key of the other in the opposite direction called KEYUP TO KEYDOWN. This key alignment means that pin 1 of one connector is aligned with pin 1 of the other connector, providing a straight through connection for each fiber – e.g. blue to blue, orange to orange, all the way to aqua to aqua. This means fiber color codes are maintained through the connection.

TYPE B
MTP Type B Mating Adapters align the two connectors key to key or KEYUP TO KEYUP and swap the color codes of the fibers, similar to what happens in a Type B cable. Swapping fibers is necessary for aligning fibers for a 40G transceiver.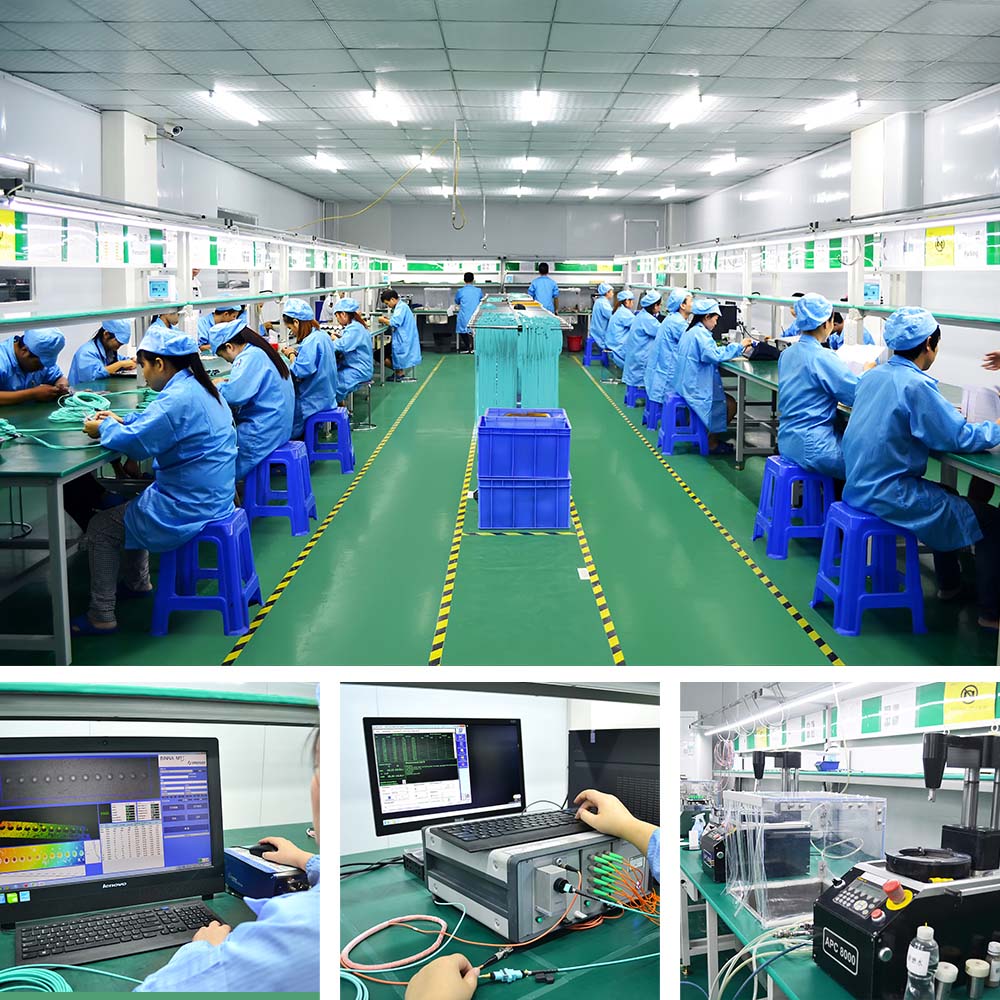 1. Why choose RAISEFIBER?
(1) Professional manufacturer: Low MOQ, free samples are available.
(2) Quality assurance:Stable high quality.
(3) Customers solutions:Quick.
(4) Win-Win Price:Save much costs, bring more benefits for customers.
2. Do you accept OEM, ODM?
Yes, we accept them .
3. Can you print our LOGO?
Sure, Your LOGO can be printed on the boxes, or products.
4. Can I have a sample order for this product?
Yes, we welcome sample order to test and check quality. Mixed samples are acceptable.
5. What about the lead time?
Sample needs 1-2 days, mass production time needs 3-5 days.
6. How do you ship the goods and how long does it take to arrive?
We usually ship by DHL, UPS, FedEx or TNT. It usually takes 3-5 days to arrive. Airline and sea shipping also optional.
7. Do you offer guarantee for the products?
Yes, we offer 10 years warranty to our formal products.
8. What about delivery time?
1) Samples: 1-2 days.
2) Goods: 3-5 days usually.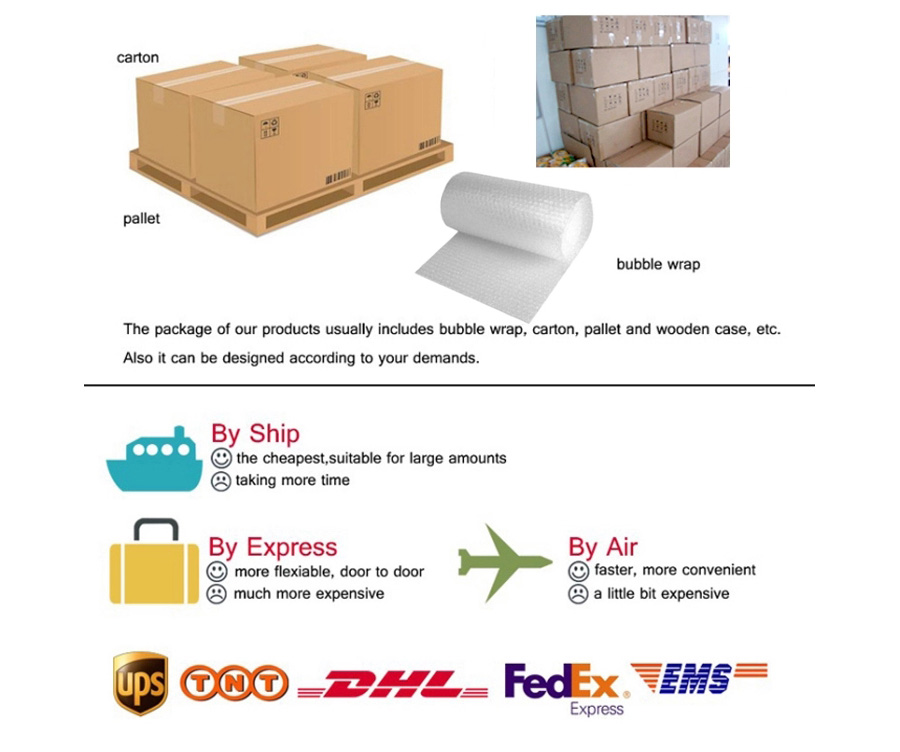 ---
---
Write your message here and send it to us